It's OK We Buy Houses
We are excited to announce the change of It's OK We Buy Houses from An Aitch Company to An Aitch Project.
About It's OK We Buy Houses
It's OK We Buy Houses (IOKWBH) began as a Tulsa, OK real estate investment company. In 2020, the concept was taken over by a Real Estate Investment Group in Oklahoma City, OK.
IOKWBH offers traditional and creative methods for homeowners needing to transition out of bad situations with their home for various reasons such as: being behind on payments, needing to sell fast, facing foreclosure, divorce, relocation, and etc.
The Concept
Being faced with losing one's home can be a very negative situation. For this reason, IOKWBH designed its message, name, and brand to inspire a positive perspective with struggling homeowners seeking help from investors.
The message "Take The Step Towards A Brighter Future" and "The Best Time For New Beginnings… Is Now" was created to encourage customers to begin the process of taking necessary steps today.
The name It's OK We Buy Houses was created with two thoughts in mind. The "We Buy Houses" portion of the name lets the inquirer know what the company does. This is especially important as pictures and icons of homes are rarely used within the content, photos, and design of the brand. The phrase "It's OK" serves as a reminder that everything is going to be okay and that their situation can be helped.
The brand is more than just the logo. The colors, images, fonts, icons, and the layout were designed to incorporate warmth and spaciousness for a calm and relaxing viewing experience. Likewise, the image of the sunset over an open road reinforces the overall feeling of the brand and at the same time illustrates the company's encouraging message.
More Than Just A Brand
Life sometimes has setbacks. The message of IOKWBH is a reminder that there is hope for a brighter future. For some, this may mean making the decision to end homeownership commitments indefinitely in order to find relief from a stressful situation. For others—who are in a bad situation but still desire to own their own home—it is a reminder that they can still achieve their dream with a new start and the right perspective.
We understand that not all scenarios are negative. Some individuals have no interest in traveling the traditional path of selling their home. IOKWBH can help them, too.
Ultimately, through consulting and offering creative solutions, customers in any situation can have a fresh start and a revived hope towards realizing their future dreams.
Sometimes helping people, even if you can't make money immediately, is just a great thing to do.
We understand that businesses exist to make money. Vertical Aitch believes that money will always follow as you help others. Sometimes helping people, even if you can't make money immediately, is just a great thing to do.
Website
To visit our version of itsokwebuyhouses.com, click here.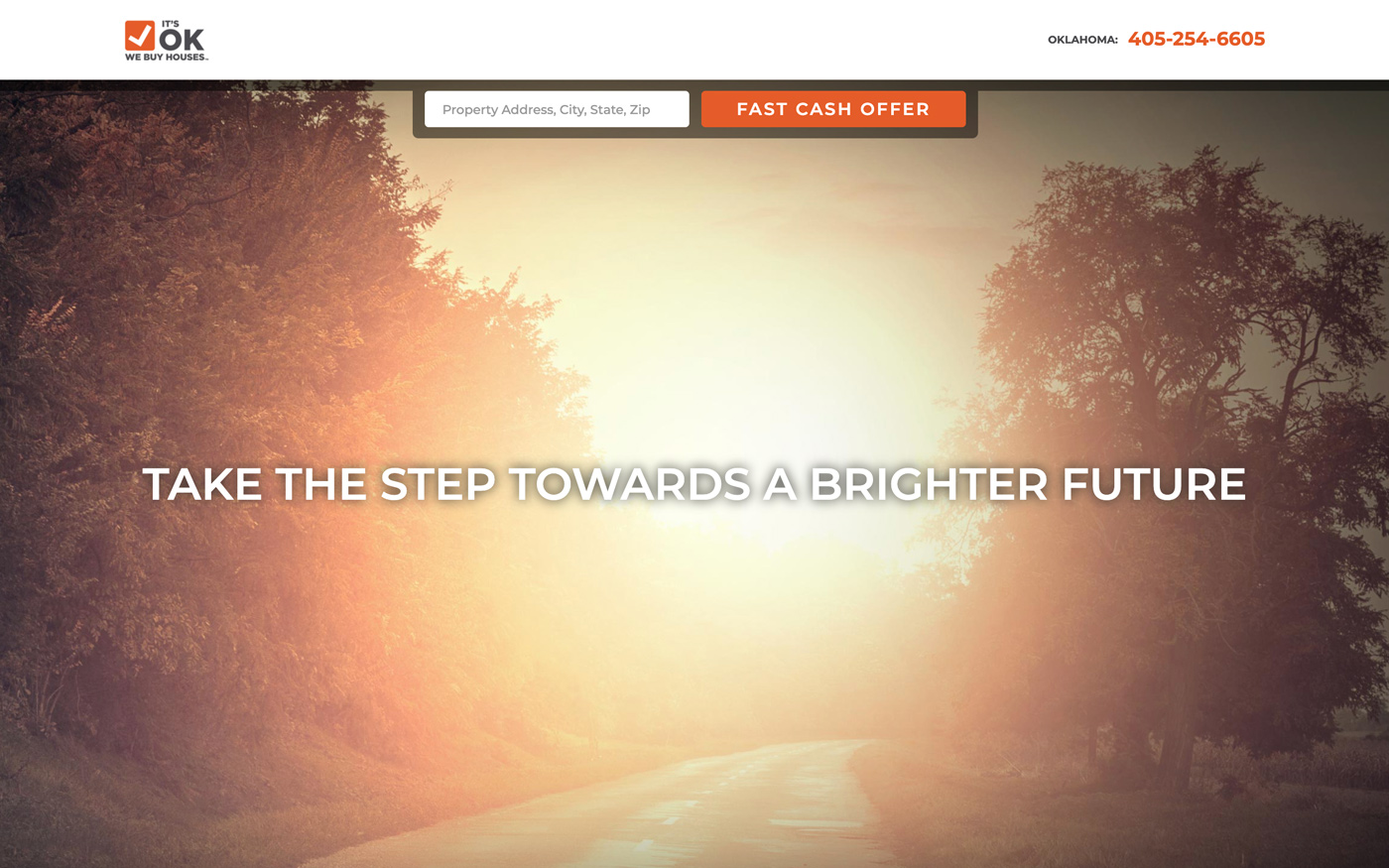 Once An Aitch Company, Now An Aitch Project
Vertical Aitch is proud to have created the It's OK We Buy Houses company, concept, and brand. We are excited to see the enthusiasm that the Oklahoma City Investment Group has for real estate and for the concept that we developed. We are confident that the new IOKWBH team will Transform Enterprise and Empower Change through this incredible opportunity.
More Aitch Projects
To see more Aitch Projects, click any of the projects on the left-hand navigation.To see more Aitch Projects, click the "Other Aitch Projects" bar above.