i

Crackedit

iCrackedit.com was a mobile phone repair service that specialized in the repair of iPhone and other Apple related products.

iCrackedit is a past Aitch Company.
The Brand
The creation of the iCrackedit brand was inspired largely by the names of the product lines which iCrackedit would exclusively service (iPhone, iPod, and iTouch). Furthermore, the name was a play on words which more or less described the primary problem (from the customer's perspective) that the service would remedy.
Whether customers were at home, in the office, at work, out to dinner, or a movie, iCrackedit staff would come to the customer to perform the repair.
We Come To You…
"We Come To You…" was the slogan for the niche company that offered its mobile repair services on the go. Customers could call or email through iCrackedit.com and setup a convenient time and pickup location for a mobile technician to come and repair the device. Techs were supplied with tools and replacement parts to make repairs in the parking lot of the pickup location. Whether customers were at home, in the office, at work, out to dinner, or a movie, iCrackedit staff would come to the customer to perform the repair.
Quality
When approaching the topic of quality, iCrackedit chose to analyze what level of quality its potential customers would expect. First and foremost, iCrackedit customers were Apple customers. Commitment to quality has always been one of Apple's highest priorities. To properly service iCrackedit's inherited customers, quality would have to be its highest commitment too.
As with many successful businesses, mobile repair companies seek ways to cut costs. Often times, the primary expense evaluated is inventory costs. Cheap displays, less durable glass, and poorly manufactured internal parts, are often the result of lowering inventory costs. Ultimately customers pay for these cuts with a product that is more likely to break or fail in the future. When iCrackedit began its inventory selection, OEM parts were sought after to deliver on the company's commitment to quality. Working in conjunction with the largest wholesale part distributor in the nation, OEM/OEM grade parts were sourced and the company's quality standards were met.
Inventory
Inventory strategy would prove to be an important consideration when working to fulfill inventory demands. Luckily, iCrackedit's new wholesaler relationship was located within the region. This meant that inventory could be delivered within 24 hours at no additional cost. Because of this, the need to have large amounts of inventory on hand was mostly eliminated. On hand inventory was kept at an industry low with the decision to only carry parts for iPhone's, iPod Touches, and later iPads and iPad minis.
Price
After quality, price was often a top concern for customers choosing a repair company. iCrackedit's price structure proved to be competitive because it eliminated the company's need for costly overhead. Because iCrackedit was strictly a pickup repair service, the costs associated with on site repairs were built into the cost with minimum impact to its customers.
Showcase
To see an archived version of the iCrackedit.com site, click here.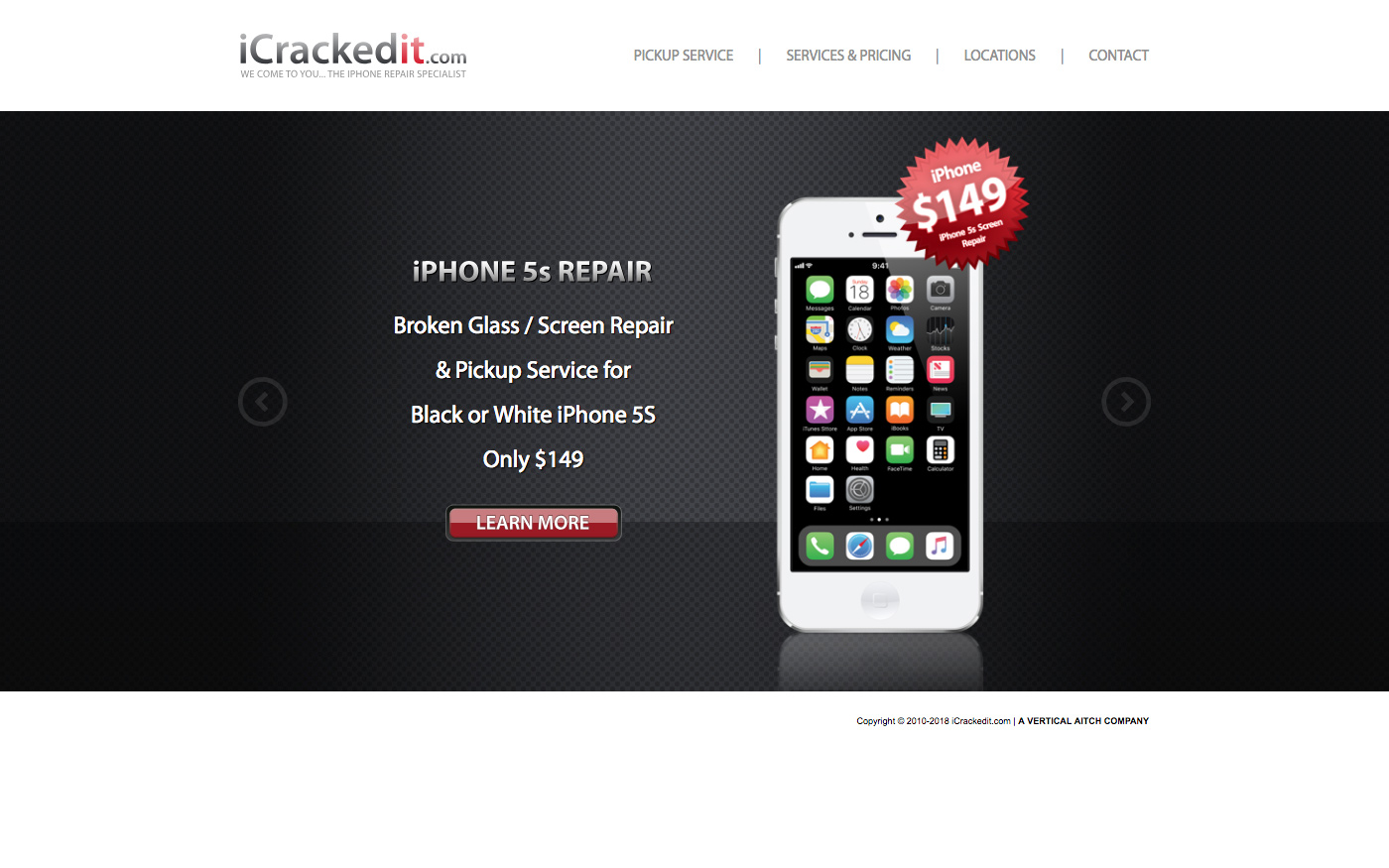 More Aitch Companies
To see more Aitch Companies, click any of the companies on the left-hand navigation.To see more Aitch Companies, click the "Other Aitch Companies" bar above.