Hubs Auto Sales
Hubs Auto Sales was a premier pre-owned and certified pre-owned car dealership in Tulsa, Oklahoma. As an independent dealership, Hubs primary goal was to offer like new pre-owned vehicles at near "NADA Clean Retail" pricing.
Hubs Auto Sales is a past Aitch Company.
Vehicles
Sourcing quality vehicles proved to be the most challenging aspect of the business. Even with industry resources such as auctions, customer trade-ins, wholesale buys, or direct dealership purchases, finding quality well maintained vehicles was always the biggest hurdle.
Local and national auctions were the primary venues for purchasing Hubs' inventory. Auctions divide their lanes into categories such as new car trade-ins (from name brand dealerships), wholesale buyers, finance company's (repos), and used car dealerships. Hubs chose to strictly purchase its cars, trucks, vans, and SUVs from the lanes that ran vehicles from the largest new car dealerships in the area.
Hubs chose specific year, make, and models for their longterm reliability and reduced makeready costs. Additionally, vehicles that fit within Hubs $5,000-$15,000 retail price points were selected. Below are some of the main brands that Hubs Auto Sales carried.

Purchase Process
Purchasing vehicles from auctions is a huge operation. Many auctions carry anywhere from 1,000 to upwards of 5,000 vehicles a week depending on the region and neighboring cities. Auctions organize their inventory into lanes throughout the week, and on auction day, drive hundreds of vehicles through the corresponding lanes for dealers to bid on. Vehicles that did not win or receive a bid, were returned to the lot to be run through the lane on the following week.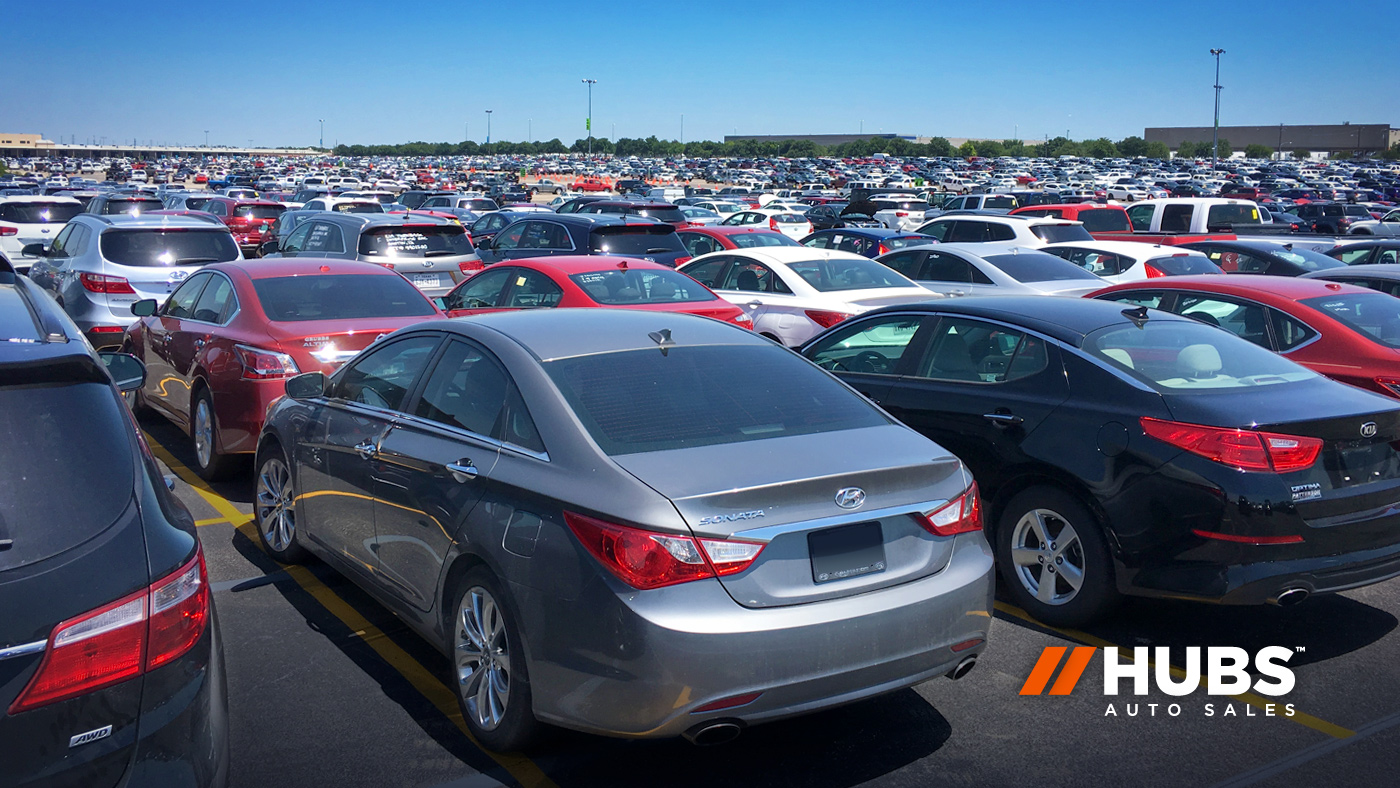 Hubs worked with national and local auctions, but preferred many of the local auctions. Below are some of the auctions that Hubs' buyers frequented.

Hubs worked on various ways to make the auction buying process more manageable. To start with, buyers would begin the vehicle selection process on the day before auction. To save enormous amounts of time going through thousands of vehicles each week, lane sheets were created so buyers could drive down each lane while eliminating unqualified vehicles from the sheet. Empty parking spaces were left blank on the sheet until the following day when one last drive throughout the lot was made. Only vehicles that were circled as a potential pick would bring the buyers back during the walk through for a thorough inspection.
For the on lot inspection, "Pre Buy Inspection" sheets were produced to compile as much information about the vehicle as possible. Details on known cosmetic repairs and mechanical issues were all documented and totaled.
Each vehicle had to qualify and pass all four of the following tests and checks to be considered for bid:
Drive Test
Interior Check
Exterior Check
Mechanical Check
Vehicle inspection took anywhere from 15 to 30 minutes to complete.
They say you make your money on the buy—and the car business was no different. To be sure a vehicle would be profitable, final selections were organized onto a "Bid Sheet." The total makeready expenses from the "Pre-Buy Inspection" sheet were tallied with auction fees, floor plan fees, transportation costs, marketing & administration expenses, and inputed onto each entry of the "Bid Sheet." Market values were pulled to predict the highest bid amount as well as to help in determining an appropriate retail sales price. After subtracting the bid amount, and all expenses from the estimated retail sales price, each vehicle's potential profit would be calculated. When everything checked out, it was time for the bid.
In an industry where emotions and egos can get in the way of sound bidding, Hubs buyers were accountable to the process and always stuck to the bid.
Inventory Tracking & Expense System
Hubs built a proprietary inventory tracking and expense system to streamline the enormous volume of expenses that are associated with the used car business. The system tracked auction expenses, makeready expenses, marketing expenses, interest & finance charges, and bank account and card usage on a minute by minute basis.
Each vehicle was assigned a stock number that was put on key tags as well as every receipt and sales document from the time of auction purchase to the time of sale. Receipts were inputed on the go as each repair was performed. The estimated retail sales price was a basis for calculating profit until the final retail sales price was inputed. This allowed staff to evaluate the true expenses in each vehicle when negotiating a sales price with the customer.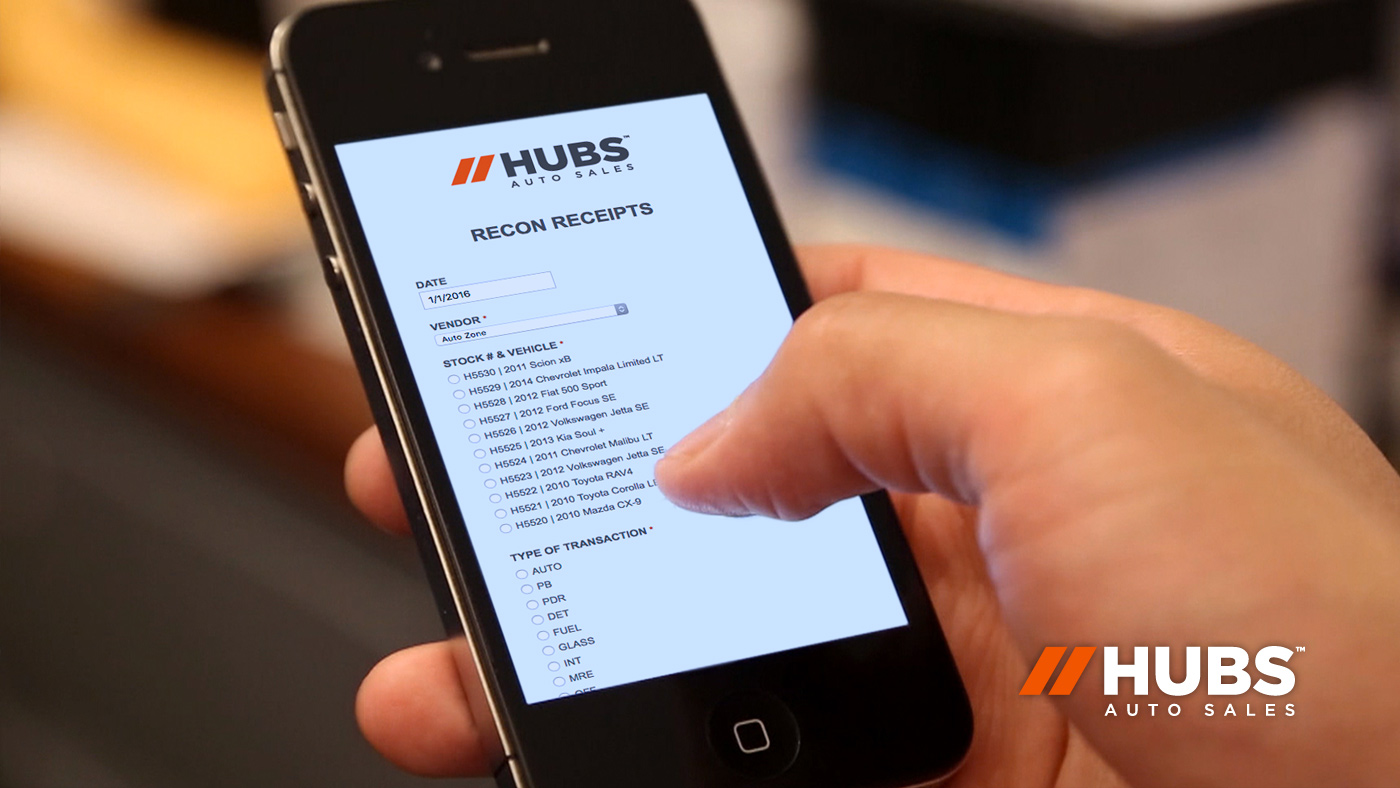 Makeready Process
Hubs' goal for the makeready process, was to put each vehicle through a reconditioning process to prepare a like-new vehicle in 7-10 days. If there were any known issues, Hubs addressed them before putting the vehicle on the lot for sale.
Efficiency was an important consideration when reconditioning vehicles. Each day that went by meant increased floor plan expenses. Speed in the makeready process was essential when working out the logistics of moving vehicles from one vendor to the next. Each day, a schedule was prepared to move inventory through the process with the least amount of overlap.
Vendor relationships were forged to service each aspect of the make ready process. Hubs built key relationships with the following types of businesses and services:
Mechanics
Tuneup & Oil Change
Paint & Body
Paintless Dent Repair
Glass Repair
Tint Installation
Upholstery Repair
Tire Repair
New Tire Installation
Wheel Restoration
Car Audio Installation
New & Used Parts
Parts suppliers proved to be the biggest vendor list. Hubs setup accounts with every major new car dealership for each of the brands it carried. Relationships with local and national used parts vendors were also created.
Marketing & Advertising
In an evolving market where customers searched for specific vehicles to purchase, Hubs Auto Sales considered itself an online marketing pre-owned dealership.
With this in mind Hubs advertising budget was crucial to the process. Photos and ads of the inventory were uploaded and advertised on the online platforms shown below.

Hubs put a considerable amount of time and money into this process. One of it's competitive advantages was the streamline process each vehicle went through to be photographed and prepared for online presentation. The photography, editing, color correcting, badging, and writing of each vehicle ad took around two hours per vehicle. The result were ads unlike anything the market had seen. Below is a selection of five of the roughly 30 shots taken for one of the vehicles sold at Hubs. You can see in the first photo how the vehicle was advertised under the certification program. Additionally, each image contains the logo, tag lines, and phone number.
Sales Process & Test Drives
The Hubs Sales process began when a customer would call to learn more about a vehicle. Hubs operated on a "by appointment only" model. Customers would set an appointment that worked best for their schedule. A sales associate would be available when the customer arrived to give them 100% focus during the scheduled time.
Vehicles would sell to the first, second, or third customer that viewed the vehicle.
Staff always took the approach of consulting customers on each vehicle of interest, but would never hard sell. Hubs belief was that when customers were presented with the necessary information, they would inevitably make the best decision for their situation on their own. Vehicle history reports such as Carfax and AutoCheck were provided for full disclosure. Typically, vehicles would sell to the first, second, or third customer that viewed the vehicle.
Test drives were laid back with many customers allowed to test drive the vehicle alone when necessary information was provided. This was one more way that Hubs offered a laid back sales approach.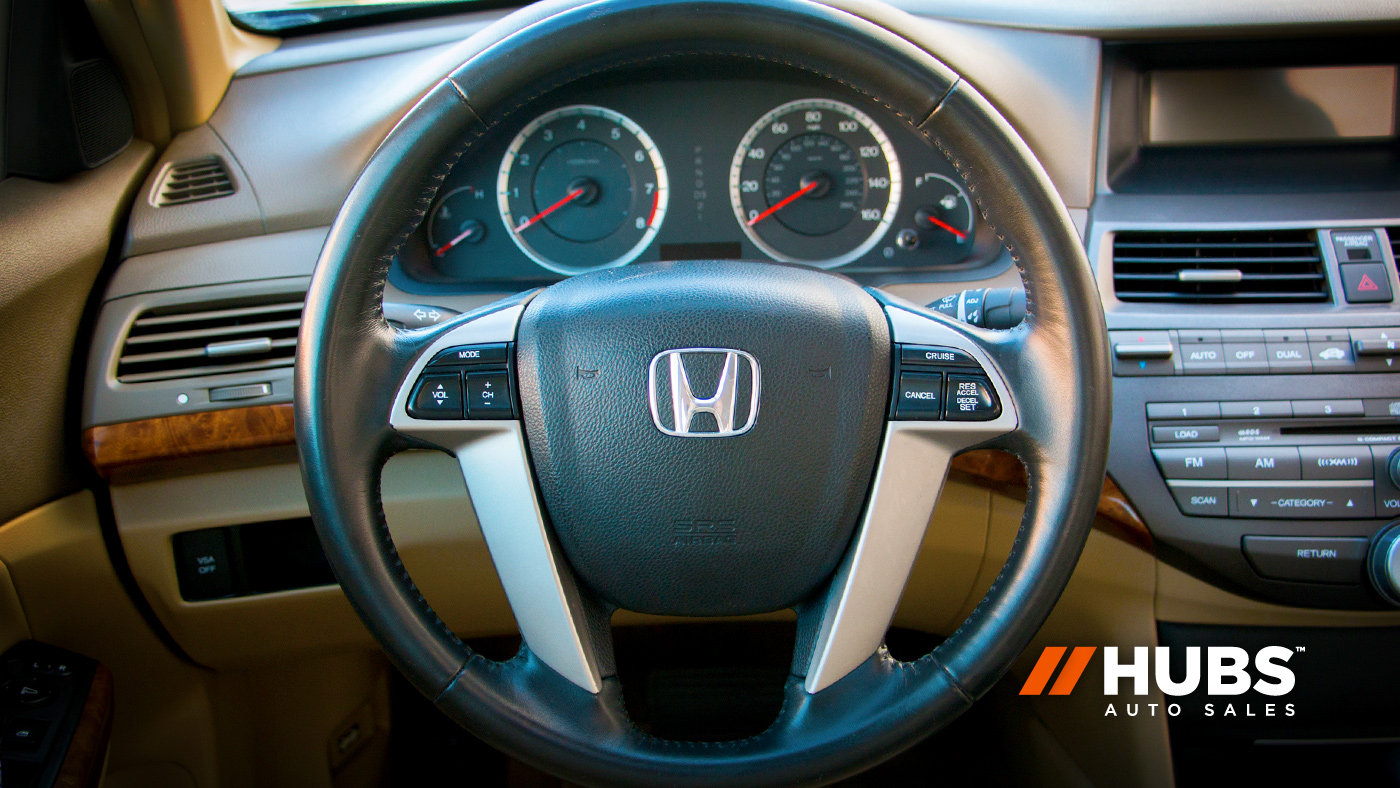 Payments & Financing
Hubs was not a "Buy Here Pay Here" lot. Instead, Hubs accepted three payment types for customer purchases. Cash, Credit Cards, or Local Bank Drafts were all acceptable forms of payment.
To aid in the selling of its vehicles, Hubs built relationships with local lenders. Customers needing financing would fill out applications that were subsequently submitted to local lenders that best matched the credit worthiness of the customer. Below were just a few of the lenders that Hubs worked with.

Certified Program
Hubs was approved to take part in one of the nation's premier Certified Pre-Owned programs. Each vehicle went through a thorough multipoint inspection to certify the vehicle for sale. As part of the program, buyers only purchased vehicles that did not have fluid leaks, and did not have apparent engine or transmission issues. Engine codes and airbag lights were never cleared, but were repaired to complete the inspection process.
When asked about any issues, customers were informed that all know issues were addressed. Basically, if there was an issue, Hubs was not aware of it. For further assurance, each certified vehicle was backed by a free 90 day, certified warranty, with upgrade options available.
Customer Feedback
Hubs Auto Sales maintained a "5 Star" rating with its customers. With less than a handful of post sale repair requests, Hubs addressed all post sale issues. Here are just a few of the things customers had to say about Hubs Auto Sales and their car buying process:
Best car buying
experience in years.
Very professional and
courteous customer service.
They were so awesome
I bought two cars!
And I'm thinking about
buying a third…

Dana

– '06 Envoy, '07 Explorer, '02 Acura

Great buying
experience!
Definitely will be
a repeat customer.
More Aitch Companies
To see more Aitch Companies, click any of the companies on the left-hand navigation.To see more Aitch Companies, click the "Other Aitch Companies" bar above.